It's well known that the way you start the morning can set the tone for the whole day. That's why I've put together this huge collection of inspirational good morning quotes. They are here to inspire you to set a positive mood when awakening and help motivate you throughout the day.

When you awake, take a few minutes to read through the good morning quotes and sayings below and you'll start your day happy, motivated, and inspired.
Inspirational Good Morning Quotes
1. Life is like a mirror. It will smile at you if you smile at it.
2. Good morning is not just a word, it's an action and a belief to live the entire day well. Morning is the time when you set the tone for the rest of the day. Set it right! – Fain Blake
3. As you wake up from your slumber, do not look at today as an ordinary day. Look at it as the day that marks the beginning of your journey into prosperity. So get out there and grab all the opportunities that dwell in this beautiful day, because the sun will soon go down and all will be gone.
4. Everyone has highs and lows that they have to learn from, but every morning I start off with a good head on my shoulders, saying to myself, 'It's going to be a good day! – Lindsay Lohan
5. The morning is good because we remember that no matter what went wrong the previous days, we just got a perfect opportunity to rewrite history and do better.
6. It's a brand new day, like brand new shoes giving you that spring in your steps, so don't hesitate, launch into the outdoors and explore all the possibilities awaiting you.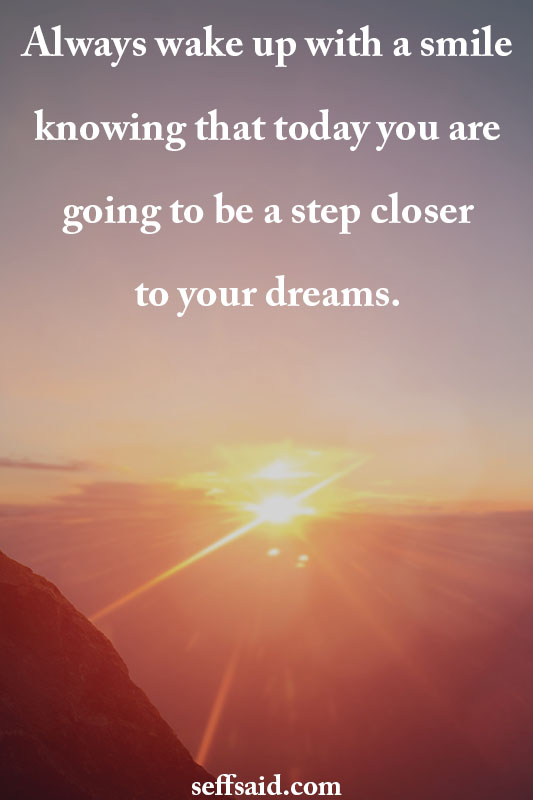 7. Always wake up with a smile knowing that today you are going to be a step closer to your dreams.
8. Today will be a good day.
9. One of the good things about a bad day is that it's not your last day, the sun will rise again in the morning and you will have a chance to have better days and that's just comforting
10. I'm always thinking about creating. My future starts when I wake up every morning. Every day I find something creative to do with my life. – Miles Davis
11. If you get up in the morning and think the future is going to be better, it is a bright day. Otherwise, it's not. – Elon Musk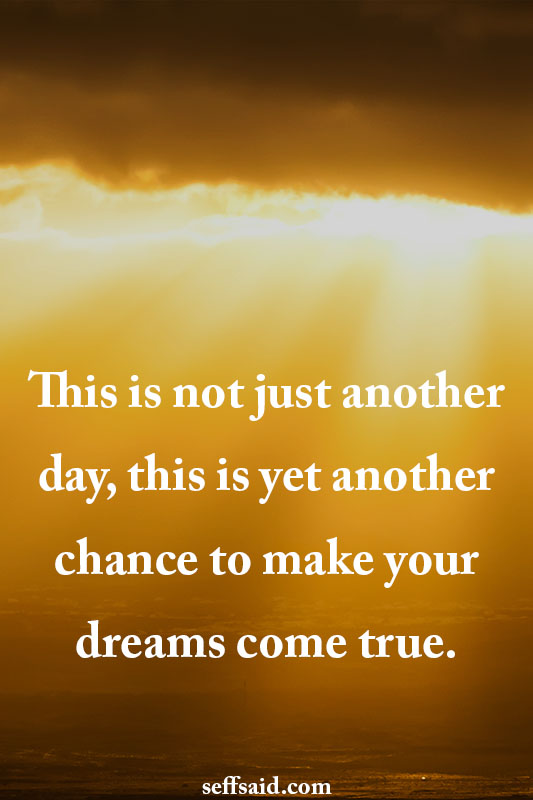 12. This is not just another day, this is yet another chance to make your dreams come true.
14. You will never have this day again so make it count!
15. Being happy is not all that difficult, it's all about allowing yourself to appreciate the new opportunities that come with a new day and forgetting those opportunities missed in the previous days.
16. I arise in the morning torn between a desire to improve (or save) the world and a desire to enjoy (or savor) the world. This makes it hard to plan the day – E. B. White
17. Some people dream of success, while other people get up every morning and make it happen. – Wayne Huizenga
18. A life without a purpose is a languid, drifting thing. Every day we ought to renew our purpose, saying to ourselves: This day let us make a sound beginning, for what we have hitherto done is nought. – Thomas Kempis
19. Saying "Good morning" has this refreshing feel to it, it feels like a warm shower after rolling in mud. You can practically feel the weight of the previous day wash off your back.
20. Today will be a good day. So wake up and smile!
21. Whether the day is for writing, designing, or painting, the consistent practice of a morning routine is the doorway into it all. – Elle Luna
22. Set a goal that makes you want to jump out of bed in the morning. – Brian Tracy
23. Early mornings with the birds chirping and breakfast coming up reminds you that no matter how bad your day could have been, it always gives way to a good morning.
24. One day you will wake up and there won't be any more time to do the things you've always wanted. Do it now. – Paulo Coelho
25. An early-morning walk is a blessing for the whole day. – Henry David Thoreau
26. Opportunities are like sunrises. If you wait too long, you miss them. – William Arthur Ward
27. Some times just lie in bed, don't make an effort to rush off into the morning, listen to the earth rouse from sleep and you'll understand how perfect life is designed to be.
28. Smile in the mirror. Do that every morning and you'll start to see a big difference in your life. – Yoko Ono
29. Lose an hour in the morning, and you will spend all day looking for it. – Richard Whately
30. The best moments to share with family are those moments just when the Sun starts to rise, and there's no struggle, no hurry, just another beautiful morning full of promises
31. I have looked in the mirror every morning and asked myself: "If today were the last day of my life, would I want to do what I am about to do today?" And whenever the answer has been "No" for too many days in a row, I know I need to change something. – Steve Jobs
32. What you do today can improve all your tomorrows. – Ralph Marston
33. Days are expensive. When you spend a day you have one less day to spend. So make sure you spend each one wisely. – Jim Rohn
34. No matter how good or bad your life is, wake up each morning and be thankful that you still have one.
35. Don't lose any chance to have a great day by carrying over grudges of the previous day, mornings are good when you choose to let go of the past
36. This morning will never ever come back in your life again. Get up and make the most of it.
37. I have always been delighted at the prospect of a new day, a fresh try, one more start, with perhaps a bit of magic waiting somewhere behind the morning. – J. B. Priestley
38. You have to get up every morning and tell yourself 'I can do this.' – Julie Johnston
39. Everything in your life is dictated by you. Be who you want to be. Think positive thoughts and great things will happen to you.
40. The worst way to start your day is with complaints, why not start out with gratitude for the opportunity to breath the air of another day. You'll be happier for it. – Eben Pagan
41. There's a lot of beauty if you'll just look around you. Starting from the most mundane things like waking up to your family and a warm mug of coffee in the morning.
42. Although time seems to fly, it never travels faster than one day at a time. Each day is a new opportunity to live your life to the fullest. In each waking day, you will find scores of blessings and opportunities for positive change. Do not let your TODAY be stolen by the unchangeable past or the indefinite future! Today is a new day! – Steve Maraboli
43. With the new day comes new strength and new thoughts. Eleanor Roosevelt
44. Don't lose any chance to have a great day by carrying over grudges of the previous day, mornings are good when you choose to let go of the past.
45. Something special awaits you each day. All you need is to recognize it and make the most of it. Have a positive attitude throughout the day and then that today is going to be the best day of your life.
46. If you've ever felt like anything was impossible, all you need is a good night's sleep and a fresh perspective that comes with the morning Sun
47. Every morning starts a new page in your story. Make it a great one today. — Doe Zantamata
48. Waking up early, connecting with nature, and having my quiet time are priorities to me, and they are non-negotiable. – Danette May
49. Every morning, my dad would have me looking in the mirror and repeat: "Today is going to be a great day; I can, and I will. – Gina Rodriguez
50. In one minute you can change your attitude, and in that minute you can change your entire day. – Spencer Johnson
51. Don't wake up with the regret of what you didn't accomplish yesterday. Wake up while thinking about what you will achieve today.
52. Work hard, play hard, enjoy every moment you've got and remember that waking up every morning is a gift worth celebrating so embrace the day with gratitude.
53. Being happy or sad, gloomy or excited, moody or stable… are options that are presented to you every morning. You just have to make the right choice.
54. Today's goals: Coffee and kindness. Maybe two coffees, and then kindness. – Nanea Hoffman
55. The sun is a daily reminder that we too can rise again from the darkness, that we too can shine our own light. – S. Ajna
56. Be grateful for everything, for the times you win and the ones when you don't, because even when you fail, you'll wake to a new day, a new chance to win.
57. Each morning we are born again. What we do today is what matters most. – Buddha
58. Eating right and taking the time to slow down and plan in the morning is crucial to a productive day. – David Moore
59. I like my coffee black and my mornings bright. – Terri Guillemets
60. She woke up every morning with the option of being anyone she wished. How beautiful it was that she always chose herself. – Tyler Kent White
61. Saying good morning is not what makes the morning beautiful, it's the fact that you are there sharing each new day with the ones you love and that's all the goodness anyone would ever need.
62. Go confidently in the direction of your dreams! Live the life you've imagined. – Henry David Thoreau
63. Your future is created by what you do today, not tomorrow. – Robert Kiyosaki
64. A morning is a wonderful blessing, either cloudy or sunny. It stands for hope, giving us another start of what we call Life
65. You know that feeling when you wake up in the morning and you're excited for the day? That's one of my main goals in life. – Kirsten Dunst
66. The breeze at dawn has secrets to tell you. Don't go back to sleep. – Rumi
67. Don't be so blinded by your problems that you cannot feel the early morning dew on your face, the cool air and quiet that comes with a new day. Be present.
68. Morning is an important time of day, because how you spend your morning can often tell you what kind of day you are going to have. – Lemony Snicket
69. My principal motivation is supporting my family, which is not a bad reason for getting up in the morning. That's always been my motivation – to take care of the people who rely on me. – Tony Parsons
70. I remind myself every morning: Nothing I say this day will teach me anything. So if I'm going to learn, I must do it by listening. – Larry King
71. Nobody can go back and start a new beginning, but anyone can start today and make a new ending. – Maria Robinson
72. I used to love night best but the older I get the more treasures and hope and joy I find in mornings. – Terri Guillemets
73. Rise up, start fresh see the bright opportunity in each day.
74. Starting my day with exercise gives me a big mood and energy boost throughout the day and makes me feel like I've accomplished something right off the bat. – Jake Knapp
75. It's like a transfer of strength when you wish people a good morning. No matter the darkness they have had to fight on previous days, they find strength from you.
76. I wake up every morning at nine and grab for the morning paper. Then I look at the obituary page. If my name is not on it, I get up. – Benjamin Franklin
77. With the new day comes new strength and new thoughts. – Eleanor Roosevelt
78. Life is too short to wake up in the morning with regrets. So love the people who treat you right and forget about the ones who don't. – Harvey Mackay
79. Good morning is not just a word, it's an action and a belief to live the entire day well. Morning is the time when you set the tone for the rest of the day. Set it right! – Fain Blake
80. It is in the early morning hour that the unseen is seen, and that the far-off beauty and glory, vanquishing all their vagueness, move down upon us till they stand clear as crystal close over against the soul. – Sarah Smiley
81. Write it on your heart that every day is the best day in the year. – Ralph Waldo Emerson
82. Do not shorten the morning by getting up late; look upon it as the quintessence of life, as to a certain extent sacred. – Arthur Schopenhauer
83. I get up every morning and it's going to be a great day. You never know when it's going to be over, so I refuse to have a bad day. – Paul Henderson
84. When you arise in the morning, think of what a precious privilege it is to be alive, to breathe, to think, to enjoy, to love. – Marcus Aurelius
If you've found this collection of inspiring good morning quotes useful, please consider sharing it for others on Facebook or Pinterest. Thanks for reading!