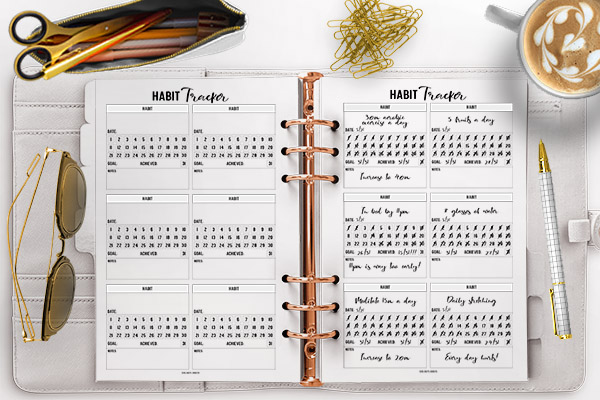 The habit tracker is a very important part of any bullet journal. It is not only a powerful tool for personal development but also to facilitate an increase in productivity and motivation in achieving your goals.
What is a habit tracker? It is simply a chart, most commonly available in weekly, monthly, and yearly formats. It helps us to stay on track and accomplish our goals by tracking repetition. The process of writing down your new daily habits and marking them off each day that you perform them is an incredibly powerful motivational tool. Personally, I have to say that habit tracking is the most useful part of my bullet journal system.
What habits should you track? You can track anything you wish in a habit tracker. It's not just for tracking new momentous life-changing habits that you'd like to implement into your daily schedule. You can also track minor everyday routines that you don't want to forget like moisturizing your hands, watering a houseplant, or flossing your teeth. For me, unless I add these types of tasks into my habit tracker, I often forget them to perform them!
If you already know what you'd like to track and are looking for a tracker to add to your planner or bullet journal, please consider downloading the SeffSaid monthly habit tracker here. It's inexpensive and helps me keep this site online. Thanks!
Need a few suggestions for what to start tracking? Here are 50+ habit tracker ideas. You won't need to track them all, but there are surely a few relevant to your lifestyle, goals, and ambitions.
Habit Tracker Ideas
Personal Habits
• Go to bed by a certain time.
• Getting up at a certain time.
• Read x number of pages of a book each day.
• Do Yoga every day.
• Taking an afternoon nap.
• Not looking at screens an hour before bed.
• Stretch every day.
• Spending time with friends.
• Learn something new.
• Skincare routines.
• Reciting daily affirmations.
• Practice an instrument.
• Filling out a gratitude log.
• Taking birth control tablets.
• Doing good deeds.
Health and Fitness Habits
• Eat five portions of fruit and veg a day.
• Exercise every day.
• Strength training.
• Cardiovascular training.
• Tracking calories.
• Brushing teeth.
• Avoiding junk food.
• Visiting a gym.
• Flossing.
• Not smoking.
• Drink eight glasses of water a day.
• Remember to take medication.
• Tracking meditation sessions.
• Remember to take vitamin/mineral supplements.
Household Habits
• Vacuuming the house.
• Grocery shopping.
• Washing dishes.
• Mowing the lawn.
• Organization.
• Mopping floors.
• Decluttering.
• Making beds.
• Cleaning bathroom.
• Watering indoor plants.
• Watering vegetable garden.
• Washing clothes, bed linen, towels, etc.
Business Habits
• Back up files, websites, hard drives, etc.
• Reply to messages and emails.
• Working on a project.
Final Thoughts
Tracking your daily, weekly, or monthly habits is a great way to help you build healthy productive habits that will enable your success. Start by tracking a few easy to achieve habits first. Once you've got used to using the system, add more habits to start building your new life. I hoped you found my list of habit tracker ideas useful and thanks for reading!