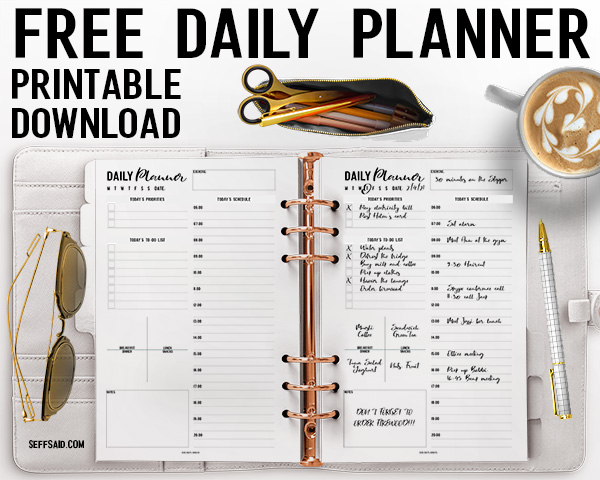 Ever find that there's just not enough hours in the day to accomplish everything you need to do? Maybe you are sometimes late for an appointment, or even forget you ever made the arrangement? Perhaps you are always in a rush and don't get time to plan and eat healthily? Well, I have a solution! You need to start using a Daily Planner.
Believe me, using a planner daily will change your life. It's been part of my personal organizer for years and I couldn't live without it. Well, I could, but I'd be pretty disorganized!
I've found the benefits of daily planning include:
1. A boost in productivity.
2. You'll soon become super organized.
3. Improves your mental health.
4. You'll develop new good habits.
5. Maintain reliable records of your meeting and appointments.
6. You'll learn from your mistakes.
7. You'll reduce your stress.
8. Never forget an appointment again.
9. You'll have a record of your progress and achievements.
10. You'll stand out from the crowd.
For me, probably the main benefit of using a daily planner is how satisfying it feels seeing all your tasks ticked as completed at the end of the day.
Convinced in the benefits of scheduling your day and would like to start planning as soon as possible? Well, I have the perfect planner for you. It's an official SeffSaid planner and guess what, it's free!
Yes, you read that correctly, for a limited time, I'm offering a free daily planner printable which is from the SeffSaid range of printable planner pages. You can see it at the top of the page. This planner has been filled, but of course, the one I'm offering is empty!
With this planner, you have a column where you can plan your daily schedule by the time of the appointment. There is an area where you can add your top three priorities of the day with a checklist. An area for a to-do list also with a checklist. A place to plan your meals for the day: breakfast, lunch, and dinner plus space for snacks (the most important area!). A box to note the amount of exercise you plan to do, and an area for any additional notes.
You'll receive two free versions of this planner, in A5 format and US Half Letter format. Both formats are 300DPI PDF files and look awesome in any planner!
Using this daily planner will keep you super organized and boost your productivity every single day. It's free and it's just a few clicks away.
Just enter your email address into the box below and your free daily planner printable will be sent straight to your inbox!
Happy planning!
If you like this planner, please spread the word and share this page on Pinterest and Facebook. Thanks!